2012
10 mars- Ce matin, je suis la première à me lever. J'ai tout le paysage pour moi toute seule, la pente enneigée m'attend.Tout le monde dort, je lis une bédé au soleil dans la salle à manger, et la pente m'attend. La descendre…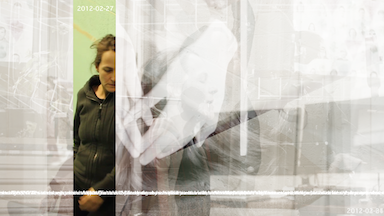 CREDITS
A project by Line Nault created by studio artificiel with Alexandre Burton (video software) and Guillaume Arseneault (technical development). She wishes to highlight the work of Mélissa Guay to the correction of the texts of the newspaper 2012 and Audrey Villiard to the correction images.
Line would like to thank all those who meet (often without knowing it) on the video capsules, as well as the City of Quebec, the Conseil des arts du Canada and the Conseil des arts et des lettres du Québec.
A production Recto Verso
PRESENTATIONS
 20 and 22 december2012 ,  5 february 2013 and 21 october 2013 at studio Artificiel
13 and 23 february 2014 MOIS MULTI salle méduse (Québec)
8 may – 8 june 2014 Biennale Internationale d'Arts Numériques Maison de la culture Mont-Royal(Montréal)
[2013, installation]
Featuring a few hundred videos of varying lengths, the installation 2012 relates visual and sound moments Line Nault experienced and recorded during the year. Every day she wrote a few lines about what remained of her day and then explored the distance between memory and reality, through expressions of her body in movement. The real-time movement of the audience in front of an interactive device made up of a multi-layered screen probes these time capsules and invites the audience to literally act on the artist's traces. Line Nault is associated with Recto-Verso and has a background in dance. Through her multidisciplinary art projects, she looks at the intersection between the somatic, media and the digital.
Technical description :
A video projection of 3.3 m by 2 m broadcasts a mass of video clips stacked on each other; their sound is broadcasted in stereo. Each layer is a video clip showing a day in 2012. This creates a dense visual texture from an endless permutation generator, certain bits are revealed and become readable: we can discern certain actions, objects.
The texture is captivating and complex. At the bottom, a blackened strip is found across the screen; it is composed of superimposed texts corresponding to the videos that are running at different speeds.
When the viewer approaches the video screen, he focuses on a video frame, he will then be able to isolate a layer and read the text associated with it. When the viewer moves, the cursor also follows and therefore allows him to explore the video more directly. If several people are present, they combine their efforts to reveal a larger area ofthe layer.
2012 - installation interactive
2012 - Entrevue avec Line Nault