2012
March 10 – This morning, I am the first to get up. I have the whole landscape to myself, the snowy slope awaits me. Everyone is asleep, I read a comic book in the sun in the dining room and the slope awaits me. Going down the slope…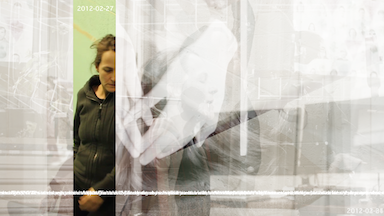 CREDITS
A Line Nault project created with:
Alexandre Burton – video software
Guillaume Arsenault – technical development
Mélissa Guay – revision of the 2012 journal
Audrey Villiard – image correction
2012 was made possible thanks to the financial support of the City of Québec, the Canada Council for the Arts and the Conseil des arts et lettres du Québec.
Acknowledgments: All the people who appear in the video capsules (often without knowing it).
A Recto-Verso production.
PRESENTATIONS
Studio Artificiel (Montreal) – december 20 & 22 2012,
february 5 2013 and october 21 2013
Mois Multi (Québec) – february 13 to 23 2014
International Digital Arts Biennial (Montreal) – may 8 to june 8 2014
[2013, installation]
2012 is an interactive video installation project bringing together video capsules recounting everyday moments experienced and captured by Line Nault, who is pretending that the end of the world will take place in 2012.
Since January 1 2012, everyday, she writes a few lines about her day, about what seems to have been decisive. From these words, she captures herself on the spot in video. She then enjoys creating a game of mirrors between her memory of reality and the conceptual transposition of it by her moving body. It is this creative act linked to everyday life that becomes for her a source of hope. As long as humans are creative with their present, they will be ready to welcome what happens.
Technical description:
A mass of superimposed video capsules is projected onto a surface of 3.3 m by 2 m and the sound is broadcast in stereophony. Each video layer presents a day of the year 2012. This accumulation resulting from a generator of infinite permutations creates a dense, bewitching and complex visual texture. We can still discern certain actions and certain objects. At the bottom, a blackened band crosses the screen; it is the superimposed texts describing the videos which scroll slowly at different speeds.
When the viewer approaches the screen, he focuses the video frame. We can then observe an isolated frame and read the text attached to it. When the viewer moves, he therefore moves his cursor and can explore the video in a more direct way. If more than one person is present, they can combine their efforts to reveal a larger area.
This interactive video installation is suitable for gallery mode in a quiet room (minimum 400 square feet).
2012 - Interactive installation
2012 - Interview with Line Nault