SuperSuper
Un labyrinthe à deux tours dans lequel deux dés-sirènes jouent des combinaisons. (inspiré de Le nombre et la sirène de Q. Meillassoux.)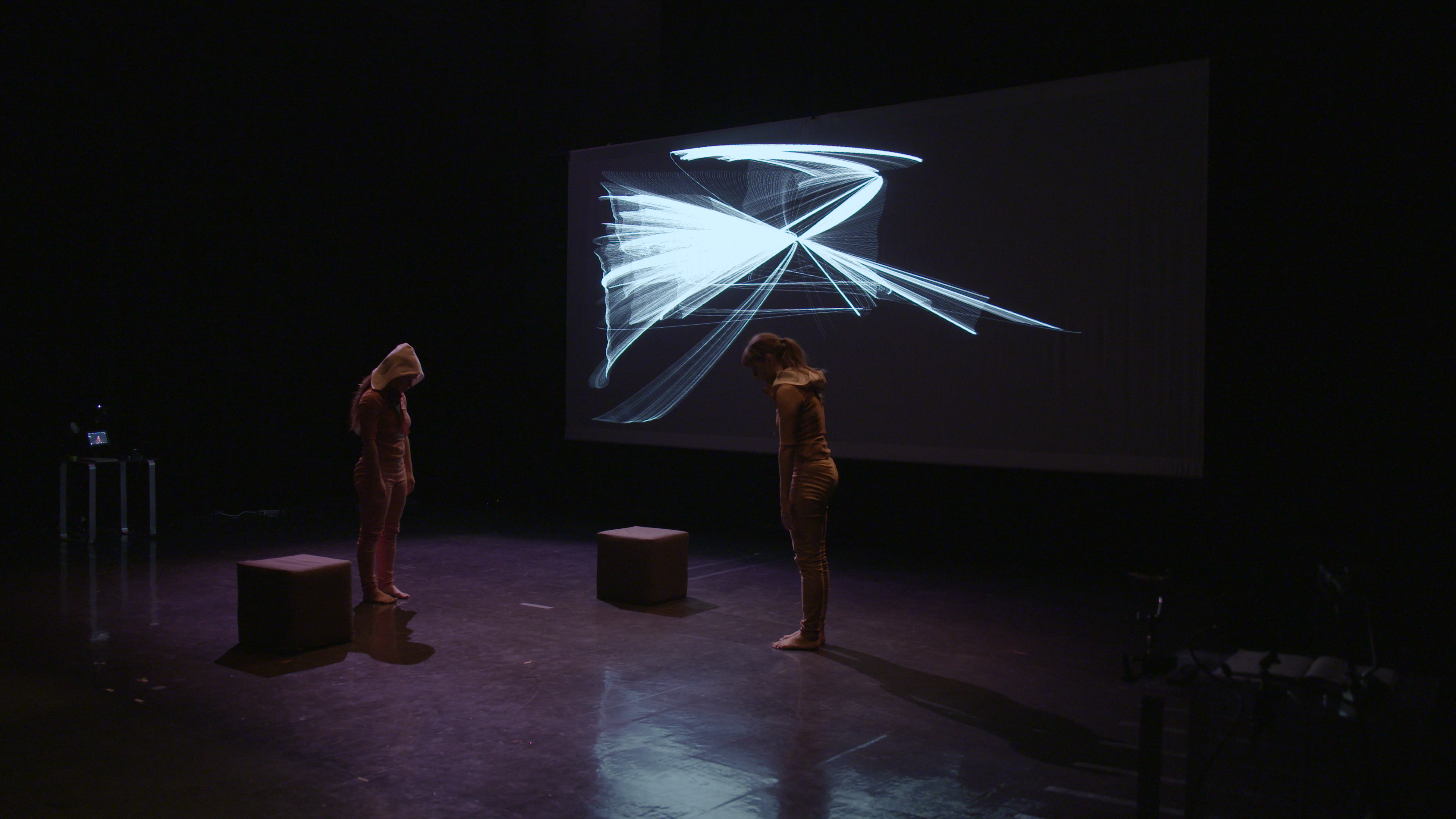 [2017, performance]
Inspired by the search for the ultimate number and the principles of the resonance of the body in space and of projection into digital space, SuperSuper is a triptych composed of Super8, Super réalité and Super N64. Two performers enact a dizzying gestural composition, redirecting digital code into poetry. Body, sound and image are modeled on and articulated through a tracking system, and the performers' gestures and movements slowly build a parallel world, an augmented space, a kind of databank. The protagonists work under surveillance that keeps them prisoners of the game in which they are evolving and which eventually culminates in a rereading of Mallarmé's "Un coup de dés jamais n'abolira le hasard." SuperSuper synthesizes all of Line Nault's artistic preoccupations, built as it is around systems, coding, generative flow, movement and words – i.e., movement that speaks and words that move – catapulting physical, sound and visual elements into areas where perception is completely transfigured.
CRÉDITS
Un projet de Line Nault créé en étroite collaboration avec :
Jessica Serli et Audrey Bergeron – interprétation
Alexandre Burton – système interactif sonore et visuel
Simon Guilbault – lumière et scénographie
Elen Ewing – costume
Éric Forget – conseiller artistique
Avec des extraits de textes d'Albert Low dans Super Réalité,  le texte Un coup de dés jamais n'abolira le hasard de Mallarmé dans SuperN64 et le texte de Line Nault dans Super8
SuperSuper a été rendu possible grâce au soutien financier du Conseil des Arts du Canada.
Une co-production de Recto-Verso et du studio Artificiel.
Résidences de création: Recto-verso, Artificiel et  Agora de la danse
Remerciements: Julie Chaffarod, Jimmy Lakatos et Karine Denault et Ariane Plante. Toute l'équipe de Recto Verso et de l'Agora de la danse.
PRESENTATIONS
Mois Multi 2018 (Quebec) – february 8th 9th 2018
Agora de la danse (Montreal) –  october  17th – 20th 2018
Line Nault parle de SuperSuper - Mois Multi : Les arts multidisciplinaires démystifiés # 4 (french)