SuperSuper
A two towers labyrinth in which two dice-mermaids play combinations. Inspired by Le nombre et la sirène (Quentin Meillassoux).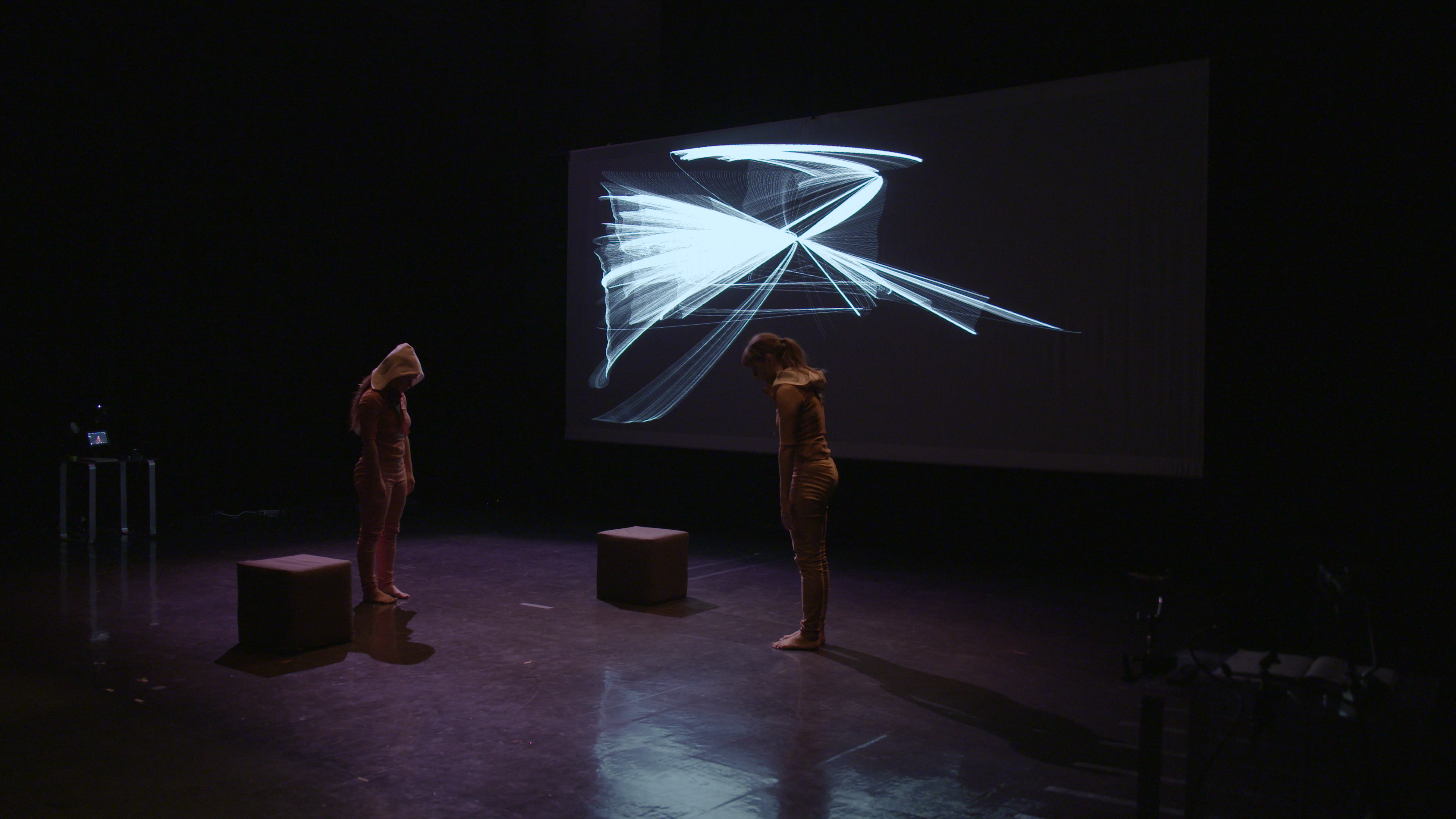 [2018, performance]
Inspired by the search for the ultimate number and the principles of the resonance of the body in space and of projection into digital space, SuperSuper is a triptych composed of Super8, Super reality and Super N64. Two performers enact a dizzying gestural composition, redirecting digital code into poetry. Body, sound and image are modeled on and articulated through a tracking system, and the performers' gestures and movements slowly build a parallel world, an augmented space, a kind of databank. The protagonists work under surveillance that keeps them prisoners of the game in which they are evolving and which eventually culminates in a rereading of Mallarmé's Un coup de dés jamais n'abolira le hasard.
SuperSuper synthesizes Line Nault's artistic predilection for systems, coding and generative flow as an extension of her previous works: Na (2002), Revenir en avant (2004) and Espace des autres (2005). Predilection for interstice, where movement speaks and words move (an intention that is found in most of Line Nault's projects). In this interstice, the body, sound and image are passed through a filter (digital instrument created for each project) which transcends and catapults them into areas where perception is no longer asserted, where the Objective and Subjective are swallowed up by a meta-language.
CREDITS
A Line Nault project created with:
Jessica Serli and Audrey Bergeron – interpretation
Alexandre Burton – interactive sound and visual system
Simon Guilbault – lighting and scenography
Elen Ewing – costume
Éric Forget – artistic advisor
With excerpts from texts by Albert Low (Super Réalité), Mallarmé's Un coup de dés jamais n'abolira le hasard (Super N64) and Line Nault (Super8).
SuperSuper was made possible through financial support from the Canada Council for the Arts.
A Recto-Verso and Artificiel studio co-production.
Creative residencies: Recto-verso, Artificiel and Agora de la danse.
Acknowledgments: Julie Chaffarod, Jimmy Lakatos, Karine Denault and Ariane Plante. The entire Recto Verso and Agora de la danse team.
PRESENTATIONS
Mois Multi (Quebec) – february 8th & 9th 2018
Agora de la danse (Montreal) –  october  17th to 20th 2018
Line Nault parle de SuperSuper - Mois Multi : Les arts multidisciplinaires démystifiés # 4 (french)