Les Cercles
[2021, video performance]
Writer Daniel Canty invited seven artists of the performing arts to freely interpret a chapter of his book Sept proses sur la poésie. This correspondence gave rise to a series of films presented online by Estuaire.

Line Nault wanted to transpose the idea of an interactive live performance in the context of digital publication. Therefore, based on the chapter entitled Les Cercles, her film presents a direct interaction between body and sound through interactive, generative and permutatory technological tools.
Recalling the circular trajectories of time found within the text, the choreography is based on the acceleration of the soundtrack following the revolving movements of the body. The performance is recorded in a sequence where the chapter is fully recited, but only the sentences spoken when the body is still are intelligible.
It becomes impossible to determine which between text and body controls the other. Infinite circles catch up with time and space, while words overlap and pile up to reveal the unseen – that other thing we seek.
Watch Sept proses sur la poésie.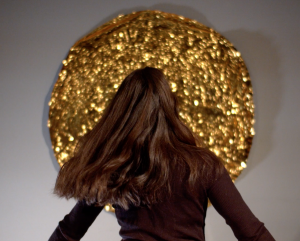 PUBLICATION
Estuaire (Montreal) – april 15 2021
Sept proses sur la poésie | Les cercles by Line Nault